Qiao Shi Blog » 未分类 » wire mesh Hesco Bastion wall – QiaoShi Wire Mesh Factory 9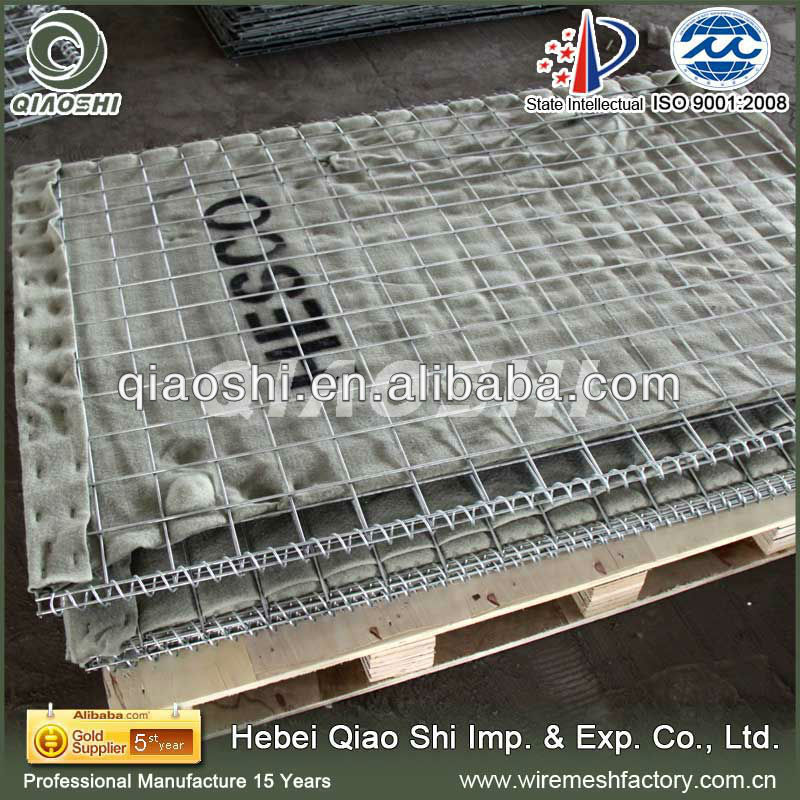 Hesco Bastion wall
Hesco Bastion/Barrier welded used for military :
A new system of Hesco Bastion developed specially for military use is deployed from a container stone box, which is dragged along the line of ground where the barrier is to be formed, unfolding up to several hundred meters of barrier in minutes, ready for filling with soil by a backhoe.
Assembly:
•Geotextile:in heavy duty non-woven polypropylene.
The HESCO barrier or HESCO bastion is a modern gabioni used for flood control and military fortification. is made of a collapsible wire mesh container and heavy duty fabric liner, and used as a temporary to semi-permanent dike or barrier against blast or small-arms.
Assembling the Hesco Bastion entails unfolding it and (if available) using a front end loader to fill it with sand, dirt or gravel. The placement of the barrier is generally very similar to the placement of a sandbag barrier or earth berm except that room must generally be allowed for the equipment used to fill the barrier. The main advantage of Hesco Barrier, strongly contributing to their popularity with troops and flood fighters, is the quick and easy setup. Previously, people had to fill sandbags, a slow undertaking, with one worker filling about 20 sandbags per hour. Workers using Hesco Barrier and a front end loader can do ten times the work of those using sandbags.
Features
•Perimeter security and defence walls
•Equipment revetments
•explosive and contraband search areas
•Ammunition compounds
•Personnel and material bunkers
•Observation points
•Defensive firing positions
•Highway checkpoints
•Border crossing checkpoints
•Protection existing structures
•High way traffic management
•Flood control
•Water courses
•Emergency flood deployment
•Erosion control
•Retaining walls
Specification:
•Mesh wire :4mm-5mm
•Spring wire :3mm,4mm,5mm
•Packing: Wrapped with shrink film or packed in pallet.
•Easy to handle and install
•High tensile and anti-impact capability
•Long life, regular use
•Can be filled with sand, earth, cement, stone.
Application:
•Panel Size: 0.6*0.6m,1*1m,1.2*1.2m,1.5*1.5m,1.5*2m,2*2m gabion mattress,2.21*2.13m or as your request
Material: It is made of galvanized welded mesh Bar Grating, spring with other fittings gabion mat, can be filled with sand, earth razor fence, cement, stone. Can be used in separate cell or some cells joint together.
gabion barrier barrier/military barriers bastion/military barriers gabiony wall:
The Hesco Barrier come in a variety of sizes. Most of the barriers can also be stacked, and they are shipped collapsed in compact sets. Example dimensions of typical configurations are 4'6" x 3'6" x 32' (1.4m x 1.1m x 9.8m) to 7' x 5' x 100' (2.1m x 1.5m x 30m)
Detailed Product Description
Hesco Bastion/Barrier
Wire:4-5mm
Size:75*75mm;100*100mm
Mesh size:2.21×2.13m gabions,1.37×1.06m,0.61×0.61m
Hot-dipped galvanized
•Aperture size: 50*50mm,60*60mm,65*65mm,70*70mm,76*76mm,80*80mm
Hesco Bastion wall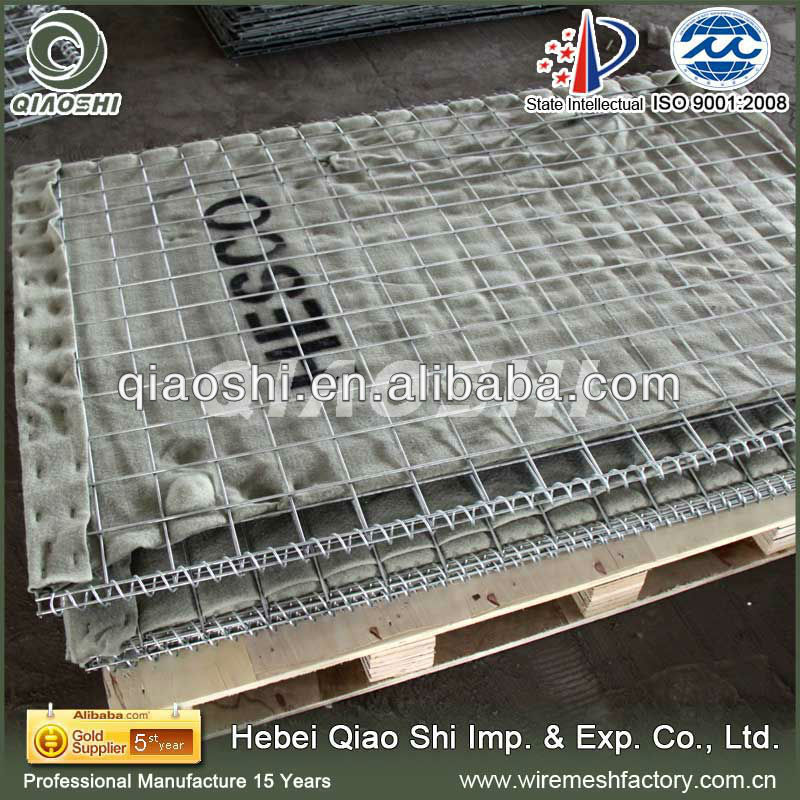 Hesco Bastion wall
Product Details:
| | |
| --- | --- |
| Place of Origin | Hebei, China (Mainland) |
| Brand Name | Qiaoshi |
| Model Number | Hesco Bastion |
| Material | Galvanized Iron Wire |
| Type | Welded Mesh |
| Application | Cages |
| Hole Shape | Square |
| Aperture | 60*60mm;75*75mm;100*100mm |
| Material | Galvanized Iron Wire |
| Wire Gauge | 4-5mm |
| Product name | Hesco barrier |
| Aperture | 75x75mm;50*50mm;100*100mm |
| Panel size | 2.21m*2.13m,1.37m*1.06m studded post,0.61m*0.61m Stainless Steel Grating, |
| Geotextile | in heavy duty non-woven polypropylene |
| Finish | hot dipped galvanized razor barbed wire, galvanzied coated after welded |
| install | Easy to handle and instal |
| feature one | High tensile and anti-impact capability |
| feature two | Long life, regular use |
| usage | Can be filled with sand, earth, cement, stone. |
| Packing detail | wrapped with shrink film or packed in pallet |
Payment & Shipping Terms:
Price:
FOB USD 1~200 / Set
Get Latest Price
Minimum Order Quantity:
Negotiable

Minimum Order Quantity:
500 Piece/Pieces one container

Port:
xingang port Tianjin
Packaging Details:
Packing: wrapped with shrink film or packed in pallet.
Delivery Time:
by agreenment or according to your order of the quatity
Payment Terms:
L/C,T/T
Supply Ability:
200 Set/Sets per Week large supply
Offline

•Finish:Hot dipped galvanzied ,galfan coated after welded
We are the perofessional manufacturers of Civil Engineering, Road Construction and Military Installations.
Tel: 0086 3118 7733 505 Fax: 0086 3118 7733 508
Mail:info@theqiaoshi.com http://www.wiremesh.de http://www.theqiaoshi.com
Wire Mesh, Gabion, Gabiony, Military Barriers, Hesco Bastions, Rock Boxes, Fence Post, Star Picket, Fence, Field Fence, Grassland Fence
Related Topics:
Filed under: 未分类 · Tags: defence wall, gabioni, razor barbed w